Croatia Beach Tour Package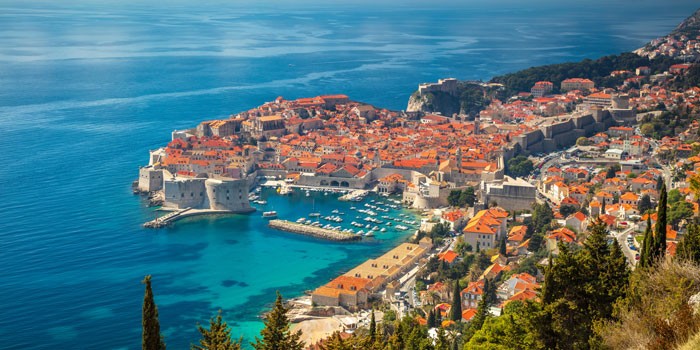 Croatia Beach Tour Package
DETAIL ABOUT THE PACKAGE
Croatia is a country in Europe that borders the Adriatic Sea. There are thousands of islands in Croatia covered in lush vegetation, and there are also about 2000 kilometres of rocky beach. Croatia has drawn interest from all around the world due to its exciting urban culture, historic walled cities, and Game of Thrones filming tours. The charming towns of Croatia bestow on you a calm and serene atmosphere that is ideal for a restorative trip. Enjoy water sports like kayaking, sailing, surfing, and snorkelling with Croatia beach vacation packages.
Croatia Beach Tour Package
Day-wise Itinerary
Day 1 Zagreb: Arrival and Leisure day
Our agent will meet you when you arrive at the airport and assist you in arranging transportation to your hotel. Complete the hotel check-in procedures, then unwind there. You can visit the local markets and upscale eateries close to your accommodation if you'd like. Return to the motel to spend the night.
Day 2 Zagreb: Leisure Day
Zagreb's historic quarter is on display. Prepare to tour the city after an excellent breakfast at the hotel. You can take a walking tour of Zagreb's Upper and Lower towns since it is a free day. Admire the mediaeval architecture while passing by bustling cafes, restaurants, and pubs. Additionally, have a look at the Stone Gate, which once served as a crossing point between Lower and Upper Town. Visit the well-known Farmers Market selling fruits and vegetables at Dolac Market in Upper town. Visit Ban Jelai Square to experience Croatian daily life. Return to the hotel for the night after the city tour.
Day 3 Zagreb: Plitvice Lakes National Park and Homeland War Museum
Prepare to take in the splendour of Plitvice Lakes National Park after a sumptuous breakfast at the hotel in Zagreb. Naturalists have been drawn to the National Park by its extraordinary beauty. A network of 16 captivating lakes, Plitvice was named a UNESCO World Heritage Site in 1979. View the 78-meter-high largest waterfall in Croatia at the national park. Following the park, you will stop by Rastoke, a tiny enchanted village located on the River Korana. The hamlet is renowned for its beautiful watermills and surrounding landscape. The day will come to a close with a visit to the Homeland War Museum, where you can learn about Croatia's military history. return to the hotel for a meal
Day 4 Split: Transfer and leisure day
Have a healthy and delicious breakfast at the hotel, complete the check-out formalities and get a bus transfer to Split with the help of our representative. On arrival, complete the check-in formalities at the hotel in Split. The fourth day of the Croatia beach vacation packages is a leisure day, you can explore the city as per your convenience. Visit the ancient Diocletian's Palace built by the Romans in the 4th century AD. Take a stroll in the criss-cross streets of the historical city and discover the amalgamation of architectural styles. You can also discover the oldest Catholic church at the Cathedral of Saint Domnius. Come back to the hotel for an overnight stay.
Day 5 Split: Island Tour
After a delicious hotel breakfast, get ready for an island-hopping trip. Your journey to the lovely Blue caverns on Bievo Island starts from Trogir and Split. Feel the mesmerising blue-sliver light in the caves for 20 minutes from a boat. Next, head to Komia, a village with a long tradition of fishermen. Visit Komia hamlet to take in its splendour, then head to Stiniva cave on the island of Vis to wander along its alluring beaches and try snorkelling. Visit the cave in the morning to obtain enough of sunshine because it is enclosed by two tall rocks and has a small entrance. Arrive at the sandy beach at the Blue Lagoon after passing the Green cave on Ravnik Island.
Day 6 Dubrovnik: Transfer and leisure day
Enjoy a scrumptious breakfast and finish the check-out procedures at the hotel in Split. From Split, a bus will take you to Dubrovnik. When you get to Dubrovnik, check into your hotel. Spend the day anyway you like; it is a day of leisure. You can stroll around the historic district beginning at Onofrio's Fountain and heading down Prijeko Street until you reach the Old Port. Visit the St. Luke and St. John fortresses as well before returning to the hotel for the night.
Day 7 Dubrovnik: Filming locations of Game of Thrones, Dubrovnik beach
Enjoy a sumptuous breakfast at the hotel on the seventh day of your Croatia beach holiday packages before setting out to discover Dubrovnik. You will receive a 2-hour tour of the old city today, where many of the scenes for the hit television show Game of Thrones were filmed. For sea kayaking in the evening, a safety lecture will be held at the park beneath Pile Gate. Head to the beach for swimming, snorkelling, and sunbathing after sea kayaking.
Day 8 Dubrovnik: Departure
Pack your bags and check out of the motel after eating breakfast there. You will be assisted in getting transported to the airport by our agent. You can take a flight from there to your own nation.
Croatia Beach Tour Package
Inclusions & Exclusions 
Breakfast
VISA Assistance
Government Taxes/VAT/ Service Charges
Travel Insurance
Sightseeing
Airport Transfers
Airfare
Lunch
Dinner
VISA fees
City taxes on hotels
Croatia Beach Tour Package
Faq
Does Refresh Holidays Have Partners Outside Of india?
In Southeast Asia, All Asia Trips collaborates with regional tour operators to offer unique, experience tours and journeys. Our one-of-a-kind excursions are the result of years of collaboration with our partners. In order to create our authentic tour itineraries, AAT, a small owner-managed company, pairs our staff of travel experts who are passionate about Southeast Asia with local operators who are specialists in various fields.
Does My Tour Include Airline Fare?
Airfare from your home country to the tour starting point and back from the tour ending point is not included in our tour rates. However, our packages cover all internal flights and ground transportation within the country of the destination. Please get in touch with Refresh Holidays customer service representatives if you need help booking your airline tickets if you're travelling to/from the India. We are always delighted to recommend aircraft routes to and from the trip destination for clients outside of the India.
Can I Join The Tour Late, or Leave Early?
We will be happy to connect you with your tour and adjust your trip if you want to join or leave our tour late. However, we cannot guarantee immediate transportation or accommodations that meet your needs, and the tour fees paid are non-refundable. Please keep in mind that not all demands can be accommodated and some may require additional costs. For more information, please get in touch with an AAT representative.
I Want To Go Somewhere After My Tour, Does Refresh Holidays Helps To Plan My Post Tour Ititenary?
We would be pleased to plan your post-tour extension specifically for you. We can help you with your pre-tour plans in addition to post-tour ones.
Is There A Maximum Luggage Allowance For My Tour?
Refresh Holidays does not impose any limitations on your travel requirements, but it is crucial that you confirm the luggage requirements with the airline you use for international travel to/from your home and make appropriate plans.
What About Internet Access In Croatia?
Most of the hotels and resorts in our tours offer WiFi Internet access, though a solid connection is not always guaranteed.
Do I Need A Travel Insurance, Is That Included In My Invoice ?
Refresh Holidays strongly advises that you purchase travel insurance to cover the costs of emergency repatriation and other personal accident risks (which are not covered by the tour invoice). We suggest that you pick an insurance that meets your individual requirements.
What Kind Of Transportation Will We Be Using On The Tour ?
Our group trips may utilise a variety of modes of transportation, including buses, trains, or boats, depending on the tour you wish to arrange. You may even get to ride in an ox cart on select tours! Our excursions cover the costs of all internal transportation inside the country of the destination.
Customers Reviews & Testimonials
Tour Provided With the help of Refresh Holdiays, Crotia we had a fantastic tour. From hotel check-ins to airport pickups to breathtaking excursions, everything was beautifully planned. We had a great chance to meet people and sample local cuisine. Our tour guides were knowledgeable experts who gave us a wealth of information about Homeland War Museum
Excellent service and a great package. Ms. Vanessa was very accommodating, and if a particular location is close to others listed in the package, you are welcome to request to visit it. Our first-day guide, Ms. Lily, is a beautiful lady as well. She allowed us to take pictures while she also snapped some of our family. All of them are flawless photos. I can't remember his name, but the Halong Bay tour guide is likewise quite helpful and kind. The drivers are well-mannered and very patient. I very absolutely advise using their bundles. I have previously suggested buddies to you. Thank you, drivers, Ms. Vanessa, Ms. Lily, the person who drove us on the cruise.
Thank you. It was an amazing experience in Croatia . On this vacation, there were 2 couples with me, and we had a blast. Croatia is a beautiful country with kind people. especially Ms. Vanessa, our tour guide. She has been incredibly kind and has catered to our needs on the trip beautifully. Both the cruise tour and our hotel stay were wonderful. The hotel staff was incredibly accommodating and nice. We had English-speaking tour guides, particularly Mr. Tom, who had a professional camera to record our best moments. I'd unquestionably suggest using this travel agency, and I wish everyone a happy getaway.
Other Resorts Adaaran Group