Kashmir Honeymoon Tour Package
Kashmir Honeymoon Tour Package
Are you dreaming of a romantic escape to the pristine beauty of Kashmir? Look no further! Our exclusive Kashmir honeymoon tour package is designed to make your dream honeymoon a reality.
Embark on a journey of love and discovery amidst the breathtaking landscapes of Kashmir. Our Kashmir honeymoon tour package is curated to provide you with a once-in-a-lifetime romantic experience. Explore the hidden gems and serene spots that few have had the privilege to discover.
As you explore the hidden gems and serene spots that few have had the privilege to discover, you'll find yourselves lost in the beauty of nature, wrapped in each other's arms. It's a journey where time slows down, allowing you to savor every stolen glance, every whispered promise, and every breathtaking vista.
Let the whispering winds of Kashmir serenade your hearts, and the pristine surroundings be the backdrop to your love story. This is your chance to embark on an adventure filled with passion, romance, and endless exploration.
Book our Kashmir honeymoon tour package now and embark on this once-in-a-lifetime journey, where love knows no bounds, and the beauty of Kashmir becomes the canvas upon which your love story is painted.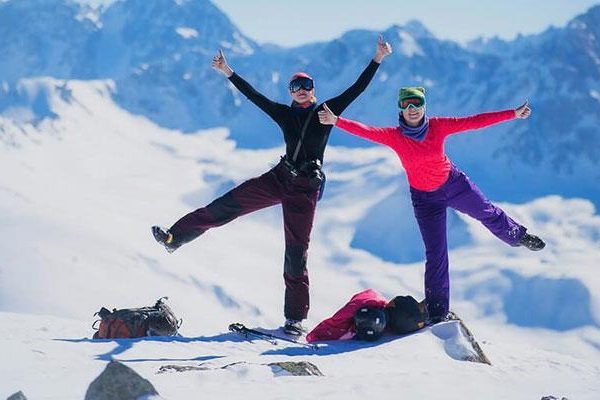 Kashmir Honeymoon Tour Package
Day-wise Itinerary
Day 1: Arrival in Srinagar
Arrive at Srinagar Airport. Transfer to your luxurious houseboat on Dal Lake. Enjoy a Shikara ride on Dal Lake, surrounded by stunning Himalayan views. Overnight stay in the houseboat.
Day 2: Srinagar Sightseeing
After breakfast, visit the Mughal Gardens (Shalimar Bagh, Nishat Bagh, and Chashme Shahi). Explore the old city's bustling markets and shop for local handicrafts. Visit the historic Shankaracharya Temple for panoramic views of Srinagar. Return to the houseboat for a romantic dinner.
Day 3: Gulmarg Excursion
Drive to Gulmarg, the "Meadow of Flowers". Enjoy a Gondola ride (cable car) to the top of Gulmarg for breathtaking mountain views. Explore the beautiful landscapes and have a leisurely walk with your partner. Return to Srinagar in the evening for an overnight stay at the houseboat.
Day 4: Pahalgam Day Trip
Depart for Pahalgam Visit Betaab Valley, named after the Bollywood movie "Betaab" filmed here. Enjoy a horse ride with your loved one by the Lidder River. Explore Aru Valley and Chandanwari, or simply take a romantic stroll. Return to Srinagar and spend the night in the houseboat.
Day 5: Sonamarg Exploration
Drive to Sonamarg, the "Meadow of Gold. Marvel at the picturesque landscapes and glaciers en route. Visit the Thajiwas Glacier and enjoy a short trek together. Take a romantic picnic lunch surrounded by pristine nature. Return to Srinagar in the evening for your last night on the houseboat.
Day 6: Departure
After breakfast, check out from the houseboat. Depending on your departure time, you may have some free time for last-minute shopping or exploration. Transfer to Srinagar Airport for your onward journey, taking with you cherished memories of your Kashmir honeymoon.
Kashmir Honeymoon Tour Package
Airfare
Personal expenses
Anything not mentioned in inclusions
Applicable peak season surcharges
Christmas, New Year surcharges
GST &TCS
Travel insurance
Kashmir Honeymoon Tour Package
Faq
What does the Kashmir Tour Package include?
Our Kashmir Tour Package is all-inclusive and covers accommodation, meals, transportation, sightseeing, and activities as mentioned in the itinerary.
How do I book the Kashmir Tour Package?
Booking is easy! You can reach out to our travel experts at 8055522285 to discuss your preferences and finalize your booking.
Can I customize the itinerary to suit my preferences?
Yes, our team can customize the itinerary to meet your specific requirements and interests.
Are there any age restrictions for this tour?
Generally, there are no age restrictions. However, some activities may have specific age requirements, and we will inform you accordingly.
No, we believe in transparency. The package price includes all mentioned services, and there are no hidden charges.
What payment methods do you accept?
We accept various payment methods, including online transfers, credit cards, and more. Our travel experts will provide you with detailed payment instructions during the booking process.
How can I contact Refresh Holidays for further inquiries?
You can reach our customer support team at +91 8055522285. Feel free to call us with any questions or to book your Kashmir Tour Package.
Kerala Honeymoon Tour Package
Tour Dates
Kashmir Honeymoon Tour Package
Customers Reviews & Testimonials
My wife and I recently embarked on a breathtaking journey to Kashmir with Refresh Holidays, and it was truly an experience of a lifetime. Dharmesh Soohinda, our tour guide, made every moment memorable with his extensive knowledge of the region, warm hospitality, and infectious enthusiasm. From the enchanting Dal Lake to the serene Gulmarg meadows, we explored the best of Kashmir hassle-free, thanks to Refresh Holidays. The attention to detail and personalized service were outstanding.
Our family had the pleasure of booking a Kashmir tour with Refresh Holidays, and it exceeded all our expectations. The natural beauty of Kashmir is unparalleled, and Refresh Holidays made sure we experienced it to the fullest. Dharmesh Soohinda, our tour guide, was not just knowledgeable but also a fantastic companion throughout the trip. He introduced us to the local culture, cuisine, and history, making the journey both educational and enjoyable. Refresh Holidays' organization and Dharmesh's expertise turned our trip into an unforgettable adventure.
Kashmir had always been on our bucket list, and we couldn't have chosen a better tour operator than Refresh Holidays. From the moment we arrived in Srinagar to our last day in Pahalgam, every aspect of the tour was well-planned and executed flawlessly. Dharmesh Soohinda, our tour guide, was the highlight of the trip. His deep knowledge of the region, friendly demeanor, and dedication to ensuring our comfort and enjoyment were commendable. We felt like we were exploring Kashmir with a trusted friend rather than a guide. Thank you, Refresh Holidays and Dharmesh, for making our Kashmir experience truly magical.
Other Honeymoon Destinations