Imagicaa Theme Park and Entertainment Destination
Step into a world where imagination knows no bounds at Imagicaa! We take pride in being India's leading theme park and entertainment destination, where the extraordinary comes to life. From the moment you enter, you're greeted with a realm of captivating experiences that cater to all ages and interests.
Imagicaa is a place where adventure finds a home. Our thoughtfully designed theme park is a haven for thrill-seekers, families, and anyone eager to escape into a world of wonder. Whether it's the rush of exhilarating roller coasters or the interactive attractions that ignite your creativity, every corner promises moments that turn into cherished memories.
But the magic of Imagicaa isn't confined to just the rides. It's a world brimming with entertainment that defies your wildest expectations. Be enthralled by live shows that transport you to fantastical realms, and interact with beloved characters that spring to life before your eyes.
For families seeking shared moments of joy, Imagicaa is a haven. With a variety of rides tailored for the youngest adventurers and interactive zones that foster creativity, every member of the family is in for an unforgettable time.
The enchantment of Imagicaa lingers long after you leave. It's about more than just the attractions; it's about the smiles, the laughter, and the heartwarming memories that fill your day. As you step into the world of Imagicaa, be prepared to leave with a trove of cherished moments that last a lifetime.
Plan your visit and embark on a journey that will ignite your sense of wonder. Whether you're a thrill-seeker, a family in search of quality time, or someone craving magical entertainment, Imagicaa welcomes you to be a part of a unique adventure that transcends the ordinary. Don't miss out on crafting your own story of magic and excitement. Your unforgettable journey into the world of Imagicaa begins right here.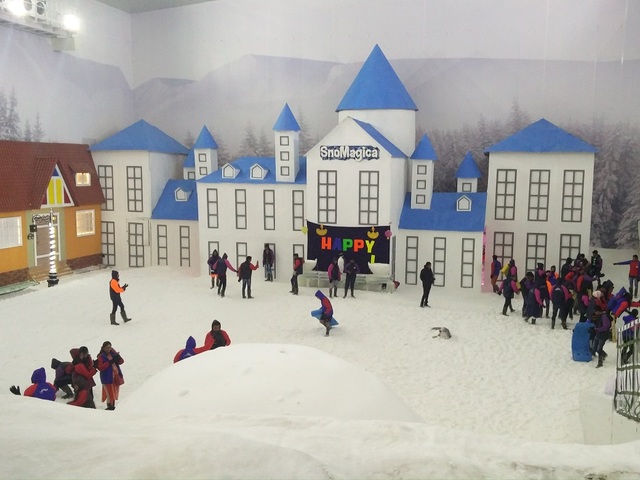 Events :-
Fun is an integral part of all activities at the hotel and meeting venues and our activity manager will assist in personalizing it
Fully equipped meeting rooms with modern technology to suit today's business needs
One of the largest meeting spaces in Lonavala area. Pillarless ballroom of 5000 sq. ft., that can accommodate 10 to 460 people and can also be divided into 3 smaller rooms ideal for meetings and weddings
Technologically equipped boardroom and a meeting room
Spacious pre-function area of 3800 sq. ft.
A roof top of 24000 sq. ft. with a scenic view of the Sahyadri range and Imagicaa
A dedicated IT & event manager for assistance
Themed coffee breaks with exciting food and beverage options
High speed wi-fi internet accessBeautifully designed lawns spread over 12500 sq. ft.
Family Helath:-
Accommodation and breakfast free for two children under 12 years (depending on package selection)
Personalized welcome and gifts upon arrival
Kids play area
Xbox (Kinect enabled)
Healthy and balanced meals
Costume retail outlet of various characters from the theme parks
Special character breakfast
A 24 hour gymnasium offering state-of-the-art equipment
Serene outdoor swimming Pools
Weddings :-
Over 5000 sq. ft. of indoor banquet space, 5000 sqft of Alfresco area & 24,000 sq. ft. of Terrace to host functions under the sky
Fairytale, fun, casual, Bollywood; choose from a variety of themed weddings
Cinderella wedding, Aqua Sangeet, Macho bachelor parties, poolside functions, Baraat with Characters, Imagicaa Capital (castle) backdrop – we will do it all
Charming table setting & lightings
Specially crafted menu's by our expert chefs with Indian & International specialities
Signature cocktails by our flair bartenders
Maharashtra Tour Package Detail
Can I host my wedding or event at Imagicaa?
Absolutely! Imagicaa offers a unique and magical setting for weddings and events. Our versatile venues and dedicated events team ensure that your special day is nothing short of extraordinary.
Can I customize the décor and theme for my event?
Yes, we believe in making your vision come to life. Our events team can work with you to create customized themes, décor, and entertainment that align with your preferences.
What health and safety measures are in place for events and family visits?
Your safety is paramount to us. We have implemented stringent health and safety protocols, including social distancing, enhanced sanitation, and trained staff to ensure that your event or family visit is worry-free.
Are family health and wellness activities available year-round?
Yes, Imagicaa promotes family health and wellness throughout the year. We offer a range of activities and initiatives that encourage healthy living and quality family time.
How can I inquire about hosting an event or family wellness day?
For inquiries about hosting weddings, events, or family wellness days at Imagicaa, feel free to contact us at our dedicated number: 8055522285. You can also reach out to us via email at contact@refreshholidays.in.
Can I book a combination of services, such as an event and a family wellness day?
Absolutely! Our team can work with you to create a comprehensive experience that combines weddings, events, and family wellness activities. Simply let us know your preferences, and we'll tailor the perfect package for you.
Is advance booking required for family wellness activities or events?
Advance booking is recommended to ensure availability, especially for weddings, events, and specific wellness programs. Contact us at 8055522285 or email us at contact@refreshholidays.in to inquire and secure your preferred dates.
More Packages Related To Theme Park