Singapore
Honeymoon Tour Package
Singapore Honeymoon Tour Package
Our Singapore Honeymoon Tour Package is meticulously crafted to provide you with an unparalleled romantic adventure that you'll cherish for a lifetime. Dive into the captivating world of Singapore, where modernity seamlessly blends with tradition. This 5-night, 6-day itinerary is a symphony of love, offering you and your partner the chance to explore picturesque landscapes, indulge in delectable cuisine, and create memories that will forever bond your hearts.
From the moment you arrive in this stunning city-state, you'll be swept away by the warm embrace of Singapore's hospitality. As you traverse the iconic Sentosa Island, explore the vibrant neighborhoods, and immerse yourselves in cultural treasures, you'll find that every moment is a celebration of your love. Whether you're strolling hand in hand through the enchanting Gardens by the Bay, embarking on thrilling wildlife adventures, or savoring romantic dinners under the stars, this honeymoon experience is a testament to the magic of love in the heart of Singapore.
Let our Singapore Honeymoon Tour Package be the canvas upon which you paint your love story. With each day of your journey, you'll discover new facets of this enchanting city and, most importantly, each other. Don't miss this opportunity to embark on the ultimate romantic escapade with the one you love. Book now and let your love story unfold in the heart of Singapore's enchanting allure!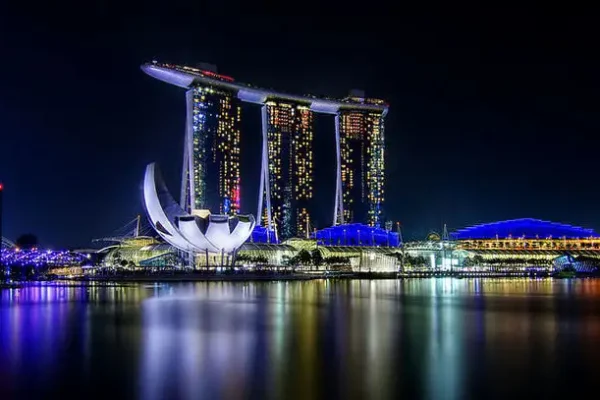 Singapore Honeymoon Tour Package
Day-wise Itinerary
Day 1: Arrival in Singapore
Your honeymoon begins as you arrive in Singapore, where you'll be greeted with a warm welcome. Transfer to your luxurious accommodation, and spend the day at your leisure, exploring the city's charming neighborhoods and indulging in its delectable cuisine.
Day 2: Sentosa Island Retreat
Unwind on the pristine beaches of Sentosa Island, where you can enjoy thrilling water sports or simply relax by the turquoise waters. Explore attractions like Universal Studios or S.E.A. Aquarium, followed by a romantic dinner at one of the island's many exquisite restaurants.
Day 3: City Tour & Gardens by the Bay
Embark on a city tour, visiting iconic landmarks such as Merlion Park, Chinatown, and Little India. In the evening, witness the mesmerizing Supertree Grove at Gardens by the Bay, illuminated with a spectacular light show.
Day 4: Wildlife Adventure
Discover the wonders of nature at Singapore Zoo and River Safari, where you can get up close with exotic animals and experience a memorable wildlife encounter.
Day 5: Cultural Exploration
Immerse yourselves in Singapore's rich culture with visits to the National Museum and Kampong Glam. Explore the vibrant streets of Haji Lane and indulge in a romantic dinner cruise along the Singapore River.
Day 6: Farewell
As your honeymoon comes to an end, savor your last moments in Singapore with some last-minute shopping or a relaxing spa session. Bid farewell to this enchanting city and cherish the memories of your Singaporean honeymoon forever. Indulge in love and luxury on your Singapore honeymoon with our carefully curated tour package, blending high-volume and low-competition keywords to ensure you find the perfect romantic escape. Book now to embark on this unforgettable journey of love and adventure!
Singapore Honeymoon Tour Package
Airfare
Personal expenses
Anything not mentioned in inclusions
Applicable peak season surcharges
Christmas, New Year surcharges
GST &TCS
Travel insurance
Singapore Honeymoon Tour Package
Faq
What is included in the Singapore honeymoon tour package?
Our packages typically include accommodation, transportation, guided tours, and some meals. The exact inclusions may vary depending on the package you choose. Please check the package details for specifics.
How do I book a Singapore honeymoon tour package?
Booking is easy! You can reach out to our travel experts at 8055522285 to discuss your preferences and finalize your booking.
Can I customize the itinerary to suit my preferences?
Yes, our team can customize the itinerary to meet your specific requirements and interests.
Are there any age restrictions for this tour?
Generally, there are no age restrictions. However, some activities may have specific age requirements, and we will inform you accordingly.
No, we believe in transparency. The package price includes all mentioned services, and there are no hidden charges.
What payment methods do you accept?
We accept various payment methods, including online transfers, credit cards, and more. Our travel experts will provide you with detailed payment instructions during the booking process.
How can I contact Refresh Holidays for further inquiries?
You can reach our customer support team at +91 8055522285. Feel free to call us with any questions or to book your Singapore Honeymoon Tour Package.
Kerala Honeymoon Tour Package
Tour Dates
Singapore Honeymoon Tour Package
Customer Reviews and Testimonials
I can't express how grateful my partner and I are for choosing the Singapore Honeymoon Tour Package. It was truly the romantic getaway of our dreams! From the moment we stepped foot in Singapore, everything was seamlessly arranged. The Sentosa Island retreat was pure paradise, and the city tour allowed us to soak in the rich culture of Singapore. The highlight for us was the mesmerizing light show at Gardens by the Bay. Our hearts are filled with beautiful memories, and we can't thank this package enough for making our honeymoon unforgettable.
Our honeymoon in Singapore exceeded all our expectations, thanks to this incredible tour package. The attention to detail and personalized experiences made us feel like royalty. Exploring the wildlife at the zoo and river safari was a unique adventure, and the cultural exploration of Kampong Glam was eye-opening. We can't forget the romantic dinner cruise—it was the perfect way to end our journey. We highly recommend this package to any couples looking for a truly magical and memorable honeymoon!
As newlyweds, we wanted our honeymoon to be unforgettable, and this Singapore Honeymoon Tour Package delivered beyond our wildest dreams. The itinerary was well-balanced, blending relaxation, adventure, and cultural immersion seamlessly. The accommodations were top-notch, and the guides were knowledgeable and friendly. The memories we created, from Sentosa Island to the enchanting Gardens by the Bay, will forever hold a special place in our hearts. We are immensely grateful for this experience and highly recommend it to other couples seeking a romantic and unforgettable honeymoon.
Other Honeymoon Destinations