Thailand Honeymoon Tour Package
Thailand Honeymoon Tour Package
Embark on an unforgettable Thailand honeymoon adventure with our exclusive tour package, designed to create cherished memories that will last a lifetime. Thailand, known for its stunning landscapes, vibrant culture, and world-class hospitality, offers the perfect backdrop for a romantic getaway. Our carefully crafted honeymoon tour package ensures a seamless and romantic journey, filled with exotic experiences and relaxation. Discover the best of Thailand's diverse beauty, from pristine beaches to lush jungles, ancient temples to modern luxury.
We take care of all the details, so you can focus on each other. From transportation to accommodations, guided tours to intimate experiences, our package ensures a hassle-free and blissful honeymoon from start to finish.
This Thailand honeymoon tour package is your passport to a love-filled adventure in one of Southeast Asia's most alluring destinations. Allow us to make your dream honeymoon a reality, creating memories that will forever be etched in your hearts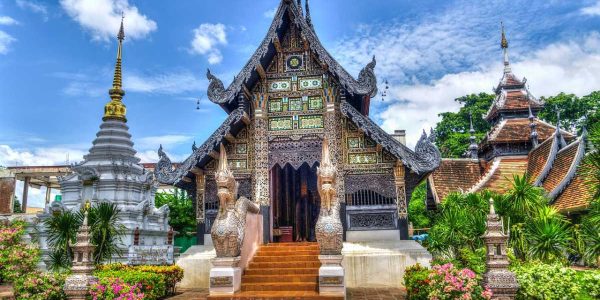 Thailand Honeymoon Tour Package
Day-wise Itinerary
Day 1: Arrival in Bangkok
Arrival at Suvarnabhumi Airport in Bangkok, the bustling capital of Thailand. Warm welcome and private transfer to your luxurious hotel. Spend the evening at leisure, perhaps enjoying a romantic dinner by the Chao Phraya River.
Day 2: Bangkok Exploration
Morning visit to the Grand Palace, a stunning showcase of Thai architecture. Explore Wat Pho, home to the reclining Buddha, and soak in the tranquility of the temple's surroundings. Afternoon boat ride along the picturesque canals of Thonburi. Evening at leisure, with the option to explore Bangkok's vibrant nightlife.
Day 3: Travel to Chiang Mai
Check out from your Bangkok hotel and transfer to the airport for your flight to Chiang Mai, the cultural heart of Thailand. Arrival in Chiang Mai, where you'll be greeted and transferred to your charming boutique resort. Relax and unwind in the serene northern Thai surroundings.
Day 4: Chiang Mai Exploration
Morning visit to Wat Phra Singh, a revered temple housing exquisite Lanna-style architecture. Explore the historic Old City, with its ancient temples and unique markets. Afternoon excursion to the lush Doi Suthep Mountain, where you'll visit the sacred Wat Phra That Doi Suthep and enjoy panoramic views of Chiang Mai. Evening at leisure, with the option to participate in a traditional Lanna-style dinner and cultural show.
Day 5: Phuket - Island Paradise
Check out from your Chiang Mai resort and transfer to the airport for your flight to Phuket. Arrival in Phuket, where you'll be transferred to your luxurious beachfront resort. Enjoy the day at leisure, lounging on the beach, or indulging in spa treatments.
Day 6: Departure
Check out from your Phuket resort and transfer to Phuket International Airport for your departure flight. Bid farewell to Thailand with cherished memories of your honeymoon adventure.
Thailand Honeymoon Tour Package
Airfare
Personal expenses
Anything not mentioned in inclusions
Applicable peak season surcharges
Christmas, New Year surcharges
GST &TCS
Travel insurance
Thailand Honeymoon Tour Package
Faq
What is included in the Thailand honeymoon tour package?
Our packages typically include accommodation, transportation, guided tours, and some meals. The exact inclusions may vary depending on the package you choose. Please check the package details for specifics.
How do I book a Thailand honeymoon tour package?
Booking is easy! You can reach out to our travel experts at 8055522285 to discuss your preferences and finalize your booking.
Can I customize the itinerary to suit my preferences?
Yes, our team can customize the itinerary to meet your specific requirements and interests.
Are there any age restrictions for this tour?
Generally, there are no age restrictions. However, some activities may have specific age requirements, and we will inform you accordingly.
No, we believe in transparency. The package price includes all mentioned services, and there are no hidden charges.
What payment methods do you accept?
We accept various payment methods, including online transfers, credit cards, and more. Our travel experts will provide you with detailed payment instructions during the booking process.
How can I contact Refresh Holidays for further inquiries?
You can reach our customer support team at +91 8055522285. Feel free to call us with any questions or to book your Thailand Honeymoon Tour Package.
Kerala Honeymoon Tour Package
Tour Dates
Thailand Honeymoon Tour Package
Customers Reviews and Testimonials
My husband and I had the most incredible honeymoon experience with Refresh Holidays in Thailand. From the moment we landed in Bangkok to our farewell in Phuket, every detail was meticulously planned. The personalized itinerary allowed us to explore the rich culture of Chiang Mai, the vibrant buzz of Bangkok, and the sheer beauty of the Phi Phi Islands. The romantic touches, like the private beachfront dinner and cultural show in Chiang Mai, made our trip truly unforgettable. We felt like VIPs the entire time, and the level of service exceeded our expectations. Thank you, Refresh Holidays, for crafting a honeymoon that will forever hold a special place in our hearts.
Our honeymoon with Refresh Holidays in Thailand was pure magic. The itinerary struck a perfect balance between cultural exploration and relaxation. We appreciated the attention to detail, especially the handpicked boutique resorts in Chiang Mai and Phuket, which added a touch of luxury to our trip. The Phi Phi Islands day tour was a highlight - crystal-clear waters, snorkeling adventures, and a beachfront lunch made it a day to remember. The team at Refresh Holidays went above and beyond to make us feel special, and we highly recommend their services to any couples planning their dream honeymoon.
Our Thailand honeymoon with Refresh Holidays exceeded our wildest dreams. From the seamless airport transfers to the charming local experiences, everything was flawless. We loved exploring the cultural gems of Chiang Mai and couldn't get enough of the bustling streets of Bangkok. Phuket was the perfect ending to our trip, with its stunning beaches and impeccable service at our resort. The flexibility to customize our itinerary allowed us to create lasting memories, and the personalized touches, like a private temple tour and a sunset cruise, made us feel truly pampered. Thank you, Refresh Holidays, for making our honeymoon a fairy tale come true.
Other Honeymoon Destinations