Japan Group Tour Package
DETAIL ABOUT THE PACKAGE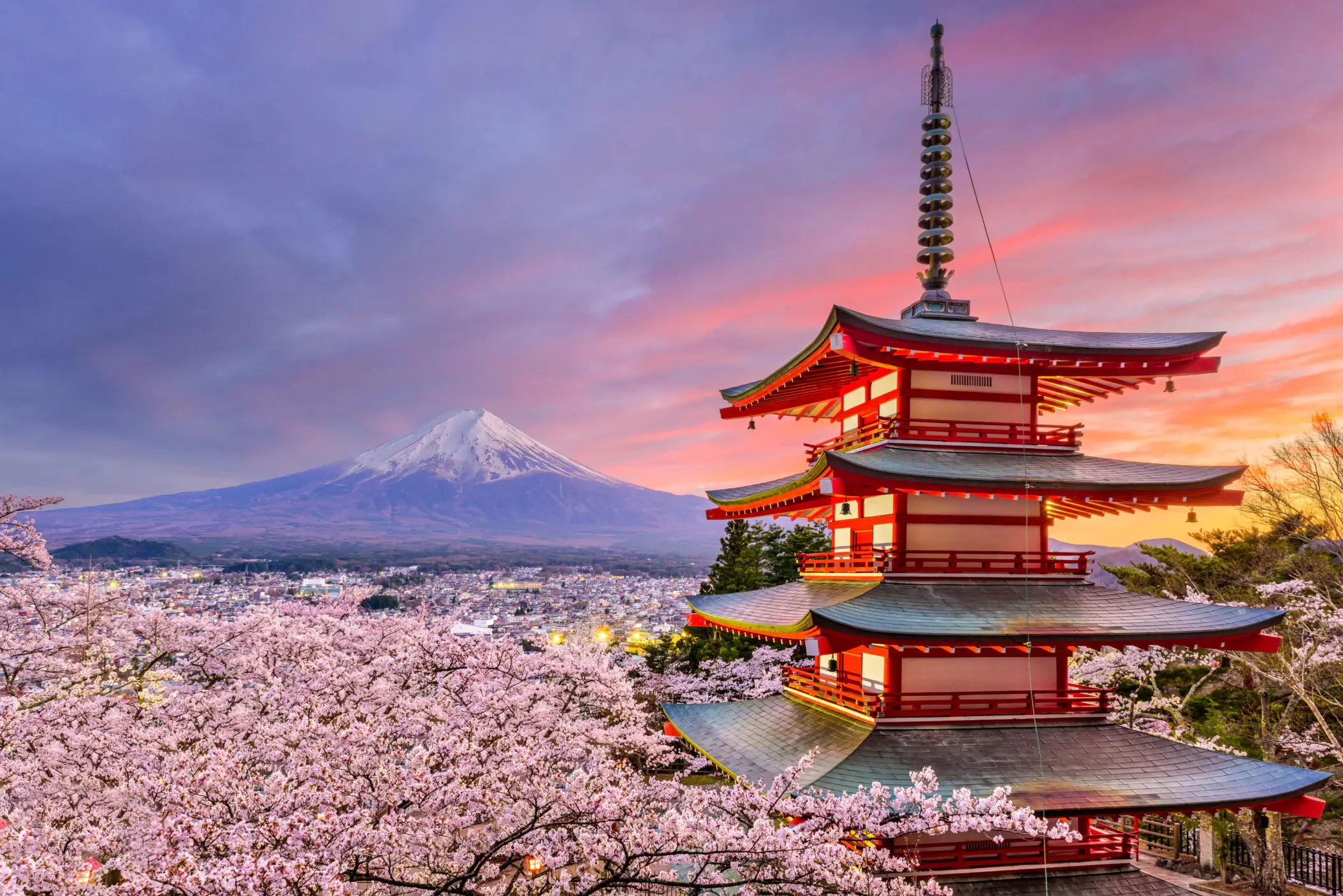 Japan is a land of wonders, and its culture is still present in many parts of the world today. We take you on an exploration of this nation during its most picturesque time of year. You'll enjoy seeing the cherry blossoms that fall as we stroll through the streets and take to the air when the wind blows. In the Kansai region of Japan, Osaka Castle is where we begin. Dotonbori & Shinbaishi, a well-liked shopping area in Osaka, is also well-known for its arcades that line the street. We travel slowly toward Tokyo, making stops in Kyoto and Nara along the way to see the Deer Park and Kinkakuji Temple. As we enter Hiroshima, we stop at the Atomic Bomb Dome, where guests learn about the atomic bomb's destructive power and How the city's inhabitants' lifestyles were altered. After that, take a leisurely journey up to the viewing platform on the Hakone Ropeway. Finally, we'll embark on a city tour of Tokyo, stopping at some of the most well-known locations there, including the Emperor's residence, the Imperial Palace, and Asakusa Kannon Temple.
Japan Group Tour Package
Day-wise Itinerary
Day 1: Arrive In Osaka – Osaka Castle, Umeda Sky Building & Japanese Tea Ceremony
Our tour of the Kansai area of Japan begins in Osaka with the assistance of a knowledgeable English-speaking guide. Most people associate Osaka with its 1597-built Osaka Castle, one of the most well-known landmarks in all of Japan. It served as the focal point for the 16th-century unification of Japan on the island between rival factions. Today, the eight-story castle serves as a museum where you can learn about the history of Osaka, feudal lords, and the building itself. It has endured various tragedies, including fire caused by a lightning storm hit, and has been restored several times.Following our visit to the Osaka Castle, we eat a lunch buffet at an Indian restaurant before making our way to the accommodation you had already reserved. Before we visit the Umeda Sky Building, an iconic landmark in Osaka that is made up of two 40-floor skyscrapers joined by a bridge at the highest point, take a moment to freshen up. The high-rise structure, which is the nineteenth tallest in the prefecture, offers a fantastic vantage point from which to see the urban setting. We'll also participate in a famous traditional event called a Japanese tea ceremony (Sado) in Osaka, but don't worry—you can still wear casual clothing inside. As you discover the significance of the tea ceremony and the distinctive flavour of matcha, take pleasure in an authentic experience in a serene setting. with a fellow We'll take you for a buffet dinner at an Indian restaurant once you've had a chance to look around, and then we'll head back to the hotel to spend the night in Osaka.
Day 2: Kinkaku-ji Temple – Arashiyama Sagano Bamboo Forest - Nishijin Kimono - Nara Todaiji Temple - Nara Deer Park Tour
The hotel will serve a delicious breakfast before our trip of Kyoto and Nara today. Our first stop is Kinkaku-ji, the most visited temple in Kyoto. This is a Zen Buddhist temple whose full name is Rokuonji, which translates to "Deer Park Temple." The upper two levels of the Zen Temple, which are entirely covered in gold leaf, are what make this location remarkable. Additionally, as a member of the family that ruled Japan at the time, shogun Ashikaga Yoshimitsu, who passed away in 1408, had his retirement home here. The Arashiyama Sagano Bamboo Forest is without a doubt one of Japan's most Instagrammable locations. The Kyoto area is home to one of the most stunning bamboo forests in the world. We'll watch the well-liked Nishijin Kimono Show, which lasts for around 20 minutes, before lunch. Watch as local textile artisans demonstrate their finest creations in the shape of the renowned kimono, a classic article of apparel from Japan. Before moving on, we'll have a buffet lunch at an Indian restaurant. We travel to Nara to see the famous Nara Todaiji Temple. One of Japan's most significant Buddhist temples in terms of history is Todaiji, which translates to "Great Eastern Temple." It was established in the year 738 and was one of the Seven Great Temples. A number of enormous structures are constructed within the complex, including the Great Buddha Hall, which is home to one of Japan's largest bronze statues of Buddha Vairocana, standing 15 metres tall.
Day 3: Kobe Akashi Kaikyo Bridge – Hiroshima Atomic Bomb Dome & Peace Memorial Museum
We'll check out of our hotel in Osaka and take a bus for Hiroshima, which will take a few hours. During that time, we can unwind or take in the landscape as we pass through a few cities. Upon arrival, we'll go to the Akashi Kaikyo Bridge, the longest suspension bridge in the world, which spans over 4 kilometres from Kobe to Awaji Island. After, enjoy a meal at an Indian restaurant. The Atomic Bomb Dome, a feature of the Hiroshima Peace Memorial Park, is our next stop. After the tragedy that struck the city in 1945, it was designated a UNESCO World Heritage Site in 1996. This was the Hiroshima Prefectural Industrial Promotion Hall in 1915, where individuals displayed and offered for sale items from Hiroshima and various works of art. After that, we have dinner at an Indian restaurant before making it to our hotel in Hiroshima to check in and spend the night. We advise you to get one suitcase and one handbag ready for your trip to Odawara or Mishima tomorrow.
Day 4: Miyajima Island – Bullet Train From Hiroshima To Odawara Or Mishima
We leave after breakfast and travel to Miyajima Island, home to Itsukushima Shrine. This is where the floating gate is, which some of you may have seen. This shrine's torii gate is special since it was constructed over water and always appears to be floating when the ride is intense. It was designated a World Heritage site in 1996 and is a national treasure. It was constructed when the water beneath it was rising and receding just far enough to make the dry land visible. We go to Hiroshima Station for a journey on the renowned Bullet Train of Japan to Odawara OR Mishima after eating at an Indian restaurant for lunch. Before we head to our hotel, have dinner at an Indian restaurant when you arrive.
Day 5: Mt. Fuji 5th Station – Hakone Ropeway – Lake Ashi Cruise
After breakfast, we leave the motel by checking out. Mt. Fuji 5th Station is the first stop on today's itinerary. The shortest path up Mt. Fuji may be found at Fujinomiya 5th Station, which is also the highest of the 5th stations. You won't get bored along the ascent thanks to the beautiful scenery. Dine out on Indian food for lunch. Next, we go to the Hakone Ropeway, an observation deck with a view of Owakudani. This is the most well-liked attraction in Hakone, and it can be reached by aerial lift in about 30 minutes. Both from the observation platform and during the cable ride, take in the unforgettable sight of Owakudani's rising volcanic fumes. Mount Fuji can be seen from
Day 6: Chidorigafuchi Park (Hanami) - Tokyo Tower - Asakusa Kanon Temple - Tokyo Sky Tree - Sumida River Cruise - Statue Of Liberty - Rainbow Bridge - 100 Yen Shop
We leave for a Tokyo City Tour after breakfast, beginning at Chidorigafuchi Park, one of the best places to enjoy Hanami (cherry blossom viewing). On the moat of the Imperial Palace, this park features a 700-meter-long walkway surrounded by lovely Sakura trees and verdant vegetation. A million or more people visit this historical park each year merely in the spring, making it a popular destination for both locals and tourists. The Tokyo Tower, a famous landmark that was erected in 1958, will be our next stop. At 332.9 meters, it is the second-tallest structure in Japan. When asked about the most recognisable structure in Tokyo, the majority of residents would undoubtedly mention it as an icon of the city. After that, enjoy a lunchtime meal at an Indian restaurant. Take a trip through Nakamise Street, the iconic shopping street in Asakusa that is right near to Sensoji Temple. Numerous people come to the street to buy and eat while taking in the atmosphere of ancient Tokyo, and it is still hopping with activity. Then, we'll make a stop at the towering, 634-meter-tall Tokyo Skytree, an observation and broadcasting structure (outside view). To catch the Sumida River Cruise, we travel to Sumida River Line. Enjoy an exquisite experience as you are driven along the river that has seen Tokyo, formerly known as Edo, grow. You probably won't believe it given how beautiful and clear the water is today considering that over 70 years ago there were no fish in this river due to pollution brought on by the rapid economic growth.
Day 7: Full Day Tokyo City Tour
We'll visit Tokyo's Imperial Palace (Outside View) for pictures after breakfast at the hotel. Except at the times of the Emperor's Birthday and New Year's Greeting, the inner grounds of the palace are not accessible to the general public. The Edo Castle, the largest stronghold in the world at the time, used to be located here. The Palace, which has housed the Emperors since 1868, is surrounded by lovely gardens, parks, and galleries that may be seen in a single day. Then, we travel to Shinjuku Garden, the most well-liked hanami (cheery blossom watching) location in Tokyo. It is a typical Japanese landscape garden with lovely rocks, bushes, and small ponds that are connected by bridges. Orchids and other unusual plants are kept in the greenhouse at the national garden. Then we go to Shibuya Crossing, a famous location in Tokyo. This well-known scramble crossing really does bring to mind the urban, hectic life of Tokyo. It has been labelled the busiest pedestrian crossing in the world, with 3,000 people using it per minute at its busiest. We travel to Akihabara Electric Town, a mecca for video game, anime, and multimedia retailers, best known as the location of the Tokyo Anime Centre. After the Second World War, it thrived as a town that offers everything connected to home electronics as well as the infamous black market, earning the name "Electric Town." Then, before going back to our hotel for an overnight stay in Tokyo, we eat our meal at an Indian restaurant.
Day 8: Departure Day
When it's time to leave, check out of the hotel after enjoying your breakfast there. We'll transport you to Narita or Haneda Airport for your return flight home, bringing back some priceless memories.
Japan Group Tour Package
Inclusions & Exclusions 
4 Star Accommodations (Twin/Double on Sharing Basis)
All meals as per itinerary (Breakfast 07, Lunch 07 , Dinner 07 )
Deluxe AC coach with Drive & English-Speaking Guide
Visit Osaka Castle
Visit Umeda Sky Building
Japanese Tea Ceremony
Visit Kinkaku-Ji Temple
Visit Arashiyama Sagano Bamboo Forest
Visit – Nishijin Kimono Show (15 to 20 min show time)
Visit Nara Todaiji Temple
Visit Nara Deer Park – A home to hundred freely roaming deer.
Visit Akashi Kaikyo Bridge
Visit Atomic Bomb Dome
Visit Peace Memorial Museum
Visit Miyajima Island and Itsukushima Shrine
Bullet Train from Hiroshima to Odawara Or Mishima
Visit Mt Fuji 5th Station
Visit Hakone Ropeway The 30-minute journey from Owakudani Station to Togendai Station
Visit Lake Ashi (A must see)
Visit Chidorigafuchi Park Cherry Blossom, It's one of the best Hanami (cherry blossom viewing) spots in Tokyo
Visit Tokyo Tower (150mtr)
Sumida River Cruise
Visit Asakusa Kanon Temple, Nakamise Street, Tokyo Sky Tree (Outside View)
Visit Odaiba- Statue of Liberty, Rainbow bridge & 100 Yen Shop
Visit Imperial palace (Outside view & Photo stop Only)
Visit Shinjuku Garden, It's one of the best Hanami (cherry blossom viewing) spots in Tokyo
Renko-Ji Temple
Visit Shibuya Crossing
Visit Akihabara electric town
Entrance fee as mentioned in itinerary
Bullet Train Ticket in Normal Class ( Hiroshima ~ Odawara )
02 Bottle Mineral Water per day to each client for all days.
Luggage Transfer from Osaka Hotel to Odawara Or Mishima Or Tokyo Hotel 01 Big Luggage Each Client
Guide & Driver Tip
Meals
07 Breakfast, 07 Buffet Indian Lunch (Veg or Non-Veg) & Buffet 07 Indian Dinner (Veg or Non Veg)
Flight (International & Domestic both), insurance, portage, etc.
Any Expenses for personal nature drinks, Laundry,
Wi-Fi is not included in our given cost & Gala Dinner not included
Meal which is not mentioned in inclusion/Itinerary
Japan Group Tour Package
Faq
Japan now has agreements with 67 nations that allow their nationals to enter Japan without a visa. Every other nation's citizens must obtain a visa.
Can I use my cell phone in Japan?
Depending on your network provider, this may change. Verify that your mobile phone is compatible with your phone line service provider before travelling to Japan. It is important to note that several plans and prices are offered in Japan for rental phones, sim cards, and Wi-Fi. These services are available at kiosks in the majority of large airports. Find out what makes the most sense for you by doing some research.
Will travel in Japan be difficult without Japanese language skills?
Being able to communicate with locals when travelling can be beneficial and demanding. Finding your way around Japan shouldn't be too tough, even if you don't speak any Japanese. Especially in the largest cities and most popular tourist destinations, English is generally understood throughout the nation. If you combine this with assertive gestures and body language, you shouldn't have many issues. Both Japanese and English are regularly used in public transit announcements, and signage typically include decipherable roman characters or English explanations. Foreign tourists can also get assistance from a wide variety of tourist services in Japan.
When is peak travel season?;
In Japan, there is a significant contrast between peak travel season and off-peak travel season. If your schedule is flexible, try to stay away from certain times of year when costs soar and hotels and transportation are frequently fully booked. Christmas Eve through New Year's Day, including any subsequent weekends. Golden Week is from April 29 to May 5 and includes nearby weekends. The August 15–21 week is known as the Summer Bon Holiday. In Japan, there is a significant contrast between peak travel season and off-peak travel season. If your schedule is flexible, try to stay away from certain times of year when costs soar and hotels and transportation are frequently fully booked. Christmas Eve through New Year's Day, including any subsequent weekends. Golden Week is from April 29 to May 5 and includes nearby weekends. The week of the Summer Bon Holiday
Do you have any recommendations for first-time visitors to Japan?
Travelers frequently arrive in Japan in Tokyo and its adjacent cities of Nikko and Hakone. Also well-liked are the historic centres of Kyoto and Nara. There is, however, a lot more to discover. Explore this website further for regional details about the entire nation, including tourist attractions, events, and activities.
Customers Reviews & Testimonials
I have visited several cities, but Tokyo is by far the cleanest. Additionally, it is the biggest and busiest city I have ever visited. It is absolutely amazing how much effort Tokyo residents put forth to maintain sanity and hygienic conditions. Harajuku (shopping/fashion), Ueno (Ameyoko for cheap shopping/Ueno Park/zoo), Shibuya (area for young adults), and Shinjuku (nightlife/red light district) are some of the must-see locations in Tokyo.
Tokyo is a city I like to explore because of its cutting-edge technology, delicious, high-quality food, and shopping. I loved going to the trendy neighbourhood (Shibuya) for its fashionable clothing and anime, as well as the electronics district (Akihabara), notably Yodobashi electronics store to see the newest products. There are toys all everywhere. Japanese anime is widely available. In Harajuku, Kiddy Land and Snoopy Town are two of my favourite shops to go to for that. There is so much to see, yet so little time. Prior to visiting other Japanese cities, try to spend at least a week in Tokyo. To see a significant portion of Tokyo, you'll need at least that much time.
The city of Tokyo was the most vibrant I've ever seen! The city that never sleeps, it really is! The Roppongi club sector is constantly bustling with activity, and there are every kind of bar or pub you can imagine, from Irish to karaoke, dance/electronic to jazz—there are even some that most people wouldn't have thought of! There are miles and miles of stores in Akibahara, the electronics district, that only sell goods. In one centralised location, the Ginza retail district houses some of the best boutiques and stores in the entire globe! The city's train system, which runs at least every ten minutes, is incredibly simple to use, and the bus system in the
Other Resorts Adaaran Group