As the cool breeze sweeps across the country and the calendar flips to winter, India transforms into a magical wonderland filled with opportunities for adventure, relaxation, and cultural exploration. The winter season in India is a time when travelers can escape to picturesque destinations, bask in pleasant weather, and revel in a variety of activities that cater to every taste. Whether you're seeking snow-capped mountains, serene beaches, or vibrant festivals, India offers a plethora of options for your perfect winter getaway. In this article, we'll take you on a journey to discover the Top 5 winter destinations in India, curated for a memorable and refreshing holiday experience, brought to you by Refresh Holidays.
1. Kashmir - "The Winter Wonderland"
Kashmir, often referred to as "Paradise on Earth," truly lives up to its name during the winter months. The pristine white landscapes, frozen lakes, and snow-covered mountains create a mesmerizing backdrop for your winter escapades. Don't miss the opportunity to experience the thrill of skiing in Gulmarg, a renowned winter sports destination.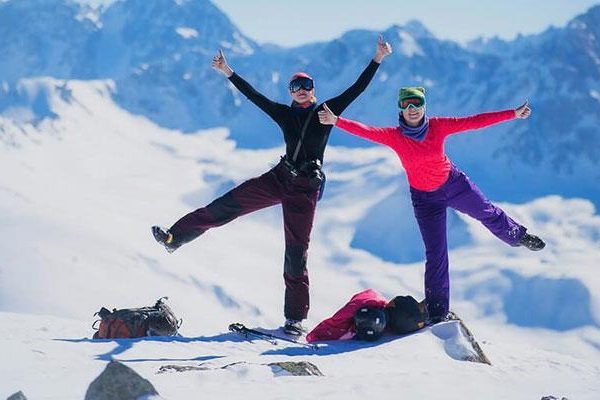 2. Manali, Himachal Pradesh - "Snowy Retreat"
Manali, nestled in the lap of the Himalayas, becomes a winter wonderland during this season. The snow-clad peaks, charming villages, and the chance to indulge in skiing and snowboarding make it a perfect destination for winter enthusiasts.
3. Auli - India's Skiing Capital
Auli in Uttarakhand is renowned for its exceptional skiing slopes. It's the perfect destination for skiing enthusiasts, with well-maintained slopes and breathtaking views of the Himalayas.  "Auli skiing experience" to find information on skiing courses, equipment, and accommodations. Apart from skiing, explore Joshimath, a sacred town with the revered Shankaracharya Math, and take a trek through the stunning meadows of Gurso Bugyal.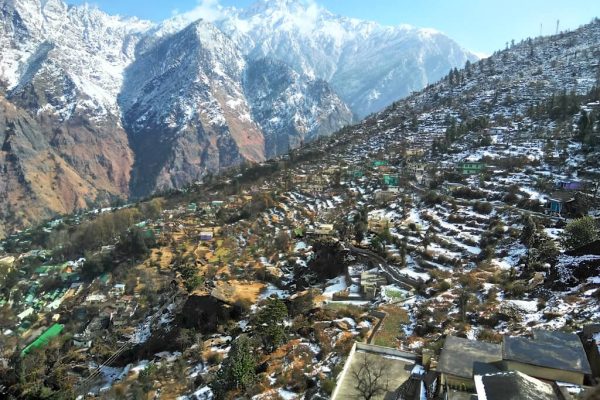 4. Shimla - Colonial Charms in the Snow
Shimla, with its colonial architecture and snow-covered landscapes, is a winter paradise. A stroll down The Mall Road will take you through iconic streets with colonial-era architecture. Kufri offers horseback rides and a visit to the Himalayan Nature Park. For panoramic Shimla views, don't miss the Jakhoo Temple.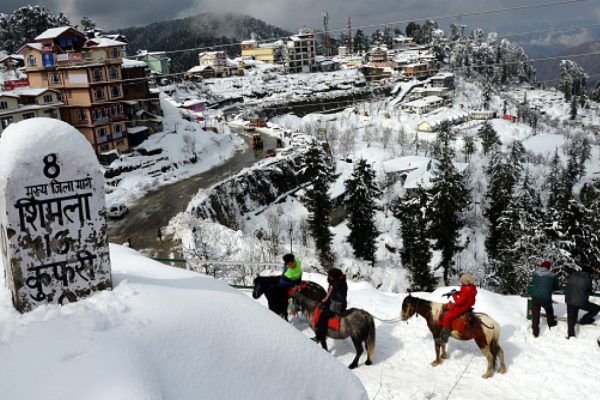 5. Darjeeling - Tea Gardens & Himalayan Views
Darjeeling, with its panoramic views of the Himalayas and lush tea gardens, is a delightful winter destination. Witness the sunrise over the Himalayas from Tiger Hill. Explore the famous Darjeeling tea estates and the lush Padmaja Naidu Himalayan Zoological Park, home to endangered species like the red panda.
Why You Should Visit These Destinations in Winter
Winter in India is a season of enchantment, where the landscape undergoes a magical transformation, offering travelers a unique and captivating experience. While these destinations are captivating throughout the year, here's why you should consider visiting them during the winter months:
1. Kashmir – The Crown of India's Winter Wonderland
Kashmir in winter is nothing short of a fairytale. The region's landscapes are blanketed in pristine snow, creating a serene and dreamlike ambiance. The serene Dal Lake freezes over, offering the opportunity to take enchanting shikara rides amidst a glistening, icy wonderland. The winter sports enthusiasts can indulge in skiing adventures in Gulmarg, making it a paradise for thrill-seekers.
2. Manali – Where Winter Sports Thrive
Manali's charm transcends to another level during winter. The Solang Valley, a hub for adventure sports, transforms into a winter sports haven. The snow-covered slopes beckon skiers and snowboarders from around the world. Rohtang Pass, accessible during this season, offers mesmerizing views of snow-clad mountains and frozen rivers. In the evenings, cozy up by a warm fireplace in a quaint café for an idyllic winter evening.
3. Auli – India's Skiing Capital
Auli in winter is a paradise for skiing enthusiasts. The well-groomed ski slopes and breathtaking vistas of the Himalayas provide a skiing experience like no other. The meadows of Gurso Bugyal become a tranquil winter wonderland, perfect for trekking and admiring the snow-covered landscapes. It's a place where the silence of the snow is your constant companion.
4. Shimla – Colonial Charms in the Snow
Shimla's colonial architecture, coupled with a layer of snow, transports you back in time to the British Raj era. The Mall Road, with its stunning buildings and shops, takes on a magical quality in the snow. Kufri offers a range of winter activities, including horseback rides and visits to the Himalayan Nature Park. The Jakhoo Temple, set atop a hill, offers panoramic views of a snow-covered Shimla.
5. Darjeeling – Tea Gardens & Himalayan Views
Winter in Darjeeling is a time when the verdant tea gardens are punctuated with frost-kissed leaves, creating a picturesque scene. Watching the sunrise from Tiger Hill, with the snow-capped Himalayas as a backdrop, is a moment of pure awe. The quiet charm of this hill station is accentuated during this season, making it perfect for a tranquil getaway.
In conclusion, visiting these destinations in winter offers a unique opportunity to witness their beauty in a different light. The snow adds an element of enchantment and serenity to these places, making them even more captivating. Whether you're seeking adventure on the slopes, a peaceful escape, or a taste of winter magic, these destinations in India have something special to offer during the winter season. So, pack your bags, bundle up, and embark on a winter journey that promises unforgettable memories and a deep connection with the beauty of India.